Looking for a Plumber Job in Santa Clara?
Employment Opportunities at EJ Plumbing
At EJ Plumbing, we've become the name people know they can turn to because of the men and women who make us what we are. We take pride in being a great place to work—we work hard to motivate each other and constantly strive to be our best, but we reward this effort with a sense of accomplishment, great benefits and perks, and a fun and inviting atmosphere where every team member is a valued and trusted part of our family. We wouldn't have enjoyed over 20 years of success without this quality help, and we look to carry on this tradition each and every day.
At EJ Plumbing, we're seeking positive and energetic individuals to join our team and help us grow for the future! We offer a rewarding workplace which features competitive pay, great benefits, and a number of other unique perks and advantages that you won't find anywhere else. When we say we demand nothing less than the best, we mean it, and we know we have to be nothing short of the best place to work in order to support that.
EJ Plumbing Inc. is a fast-paced local plumbing company who's been running since 2006 and we are looking for a positive, well-organized team player who can juggle multiple tasks and assist with sales and training capabilities. Duties for the Tankless Water Heater department include scheduling appointments ,creating estimates and conduct repairs on tankless water heaters. The position also requires the ability to conduct sales training classes and installation training on Tankless water heaters to other employees within the company.
Qualifications skills and knowledge requirements:
Great Management Skills
Well versed in MS Office (Word, Excel, Powerpoint, etc.)
Excellent in time management.
Professional telephone demeanor.
Be able to multitask
Work in a fast paced environment
Great oral and written communication
Pays attention to detail
Ability to solve problems
Perform trainings for staff
Answer/Return customer complaints calls
Maintain direct communication with technicians and office
Entering Invoices as needed
Capacity to work independently
Valid Driver's License
Sales technician duties and responsibilities of the job:
Build and maintain client relations
Meet and exceed weekly sales targets
Possess deep knowledge of business product offering and value proposition
Follow organizational policies and regulations that affect the Sales department
Proactively pursue new business and sales opportunities
Solve problems for clients and customers by developing innovative and tailored sales solutions
Be a brand ambassador and reflect company values at all times
Key competencies:
Team Player
Motivates Staff
Flexible
Accountable
Problem Solver
Decision maker
Innovative
High quality judgement
Works well under pressure
Plumbing terminology
This is a full time position.
The Office Service Dispatcher Coordinator is responsible for coordinating and dispatching service technicians in response to customer calls for service. When customers come to us in need of help for a plumbing problem, our Dispatcher Coordinators are responsible for determining the best technician to route to the customer and then providing accurate estimates for arrival time and job duration. This is a customer facing position, so ideal candidates will be great communicators, be calm in a high-pressure, fast-paced environment, and have outstanding attention to detail.
This is a part-time position based in Santa Clara, CA
Requirements:
Minimum of 2+ years of hands-on experience in a customer service position (previous experience in a dispatch or office setting also preferred)
Must have a high school diploma or GED
Must be familiar with common computer operations and software, including email programs, word processors, and Microsoft Excel
Must have a valid driver's license
Must have a flexible schedule and be capable of working nights and weekends as necessary
Must be capable of working independently
Must be well-organized
Must be able to communicate effectively both verbally and in writing
Must have outstanding attention to detail
Must be able to problem solve effectively
Must be capable of multi-tasking
Compensation will be discussed during the interview. This is a temporary, part-time position with opportunities for advancement and permanent employment status.
Sales technicians are responsible for communicating with customers, establishing relationships, conveying information effectively, and completing sales of large-ticket services. Our tankless water heater sales technician is responsible for doing so for tankless water heater services, including providing accurate estimates as well as following up on leads to close deals. Ideal candidates for our plumbing technician will be experienced, be able to demonstrate considerable mastery of their craft, and have outstanding communication skills, including customer service skills. This is a sales-oriented position, and our technicians will be expected to meet or exceed weekly sales targets for larger-ticket services.
This is a full-time position based out of Santa Clara, CA.
Requirements:
Must be able to meet weekly sales targets
Must have an outstanding knowledge of products offered and present value propositions
Must be able to solve problems for clients with tailored sales solutions
Must have outstanding management skills
Must be well-versed in computer programs, including Microsoft Office
Must have exceptional time management skills
Must be able to track, maintain, and follow up on leads with customers
Must have outstanding communication skills both verbally and written
Must be able to work in a fast-paced environment
Must have a valid driver's license
Compensation is salary-based, and will be discussed in an interview. This position is also eligible for our other benefits, including 401(k) matching, profit sharing, medical coverage, and paid vacation.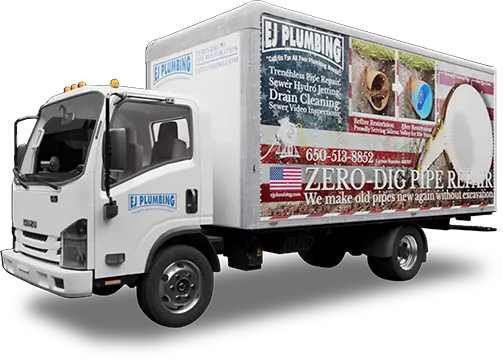 When you need plumbing services in San Jose, Santa Clara, or any of the communities in the surrounding Bay Area, count on EJ Plumbing. With more than a decade of industry experience, our expertly-trained technicians can handle just about any plumbing problem you may have. From drain cleaning to water leaks, sewer line replacements, toilet repairs, and more, you can rely on us for all your residential plumbing needs. We even offer emergency services upon availability for serious issues that just can't wait. Our dependable team is always available to assist you.